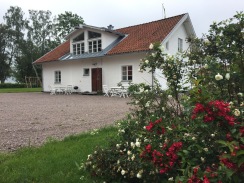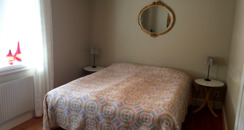 A light room on the ground floor in the Guest House with twin beds and private toilet and shower.

You can read more about Ellen Key at the following link:

https://en.wikipedia.org/wiki/Ellen Key

Ellen Key - Early female fighter

In 1910, Ellen Key moved to Strand near Omberg. The author came to love Lake Vättern and Östergötland and we think you will like the room we have chosen to name after her. Through her writing, Ellen Key fought early for women's gender equality work and the best interests of the children. She believed that marriage should be based on love and not on finances or social status and that it was better to be an unmarried mother than to marry against her convictions just to give her child a legal father. She therefore advocated the possibility of divorce.

Ellen Key created debate and was also noticed abroad where her books were published in extensive editions. Her house by Strand is today owned by a foundation that annually receives a number of scholarship recipients. Beach is open to the public during parts of the summer.