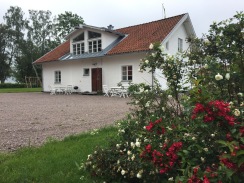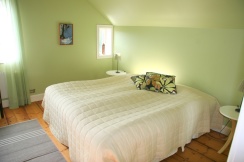 Located at the first floor of the Guest House is the spacious room HRH Prrince Eugen in green with a view over lake Vättern. This room has double beds and private toilet and shower and a large wardrobe.

You can read more about HRH Prince Eugen at the following link:

http://en.wikipedia.org/wiki/Prince Eugen, Duke of Narke
Prince Eugen - "The painter Prince"

Prince Eugen was born on August 1, 1865 as the fourth and youngest son of the duke and duchess of Östergötland, and later, king Oscar II and queen Sophia. Early on, Eugen displayed artistic leanings and received training in drawing and painting from various artists.
Prince Eugen became fascinated by the open landscape of the plains of Östergötland and recognised the possibility for artistic revival. He had his summer home, Örgården, built in Örberga during the years 1915 to 1916.

In Örberga, the Prince discovered new motifs in the wide opened spaces of the plains and in the special way the sky interacts with the water of Lake Vättern. The result was a large number of paintings. Among the best known are Rain on Omberg and Hunting skies (Det regnar på Omberg and Jagande skyar). Prince Eugen died in his home at Waldemarsudde on August 17, 1947.

In his will, the Prince left all of his homes as well as his collection of paintings to the Swedish State. Örgården is today privately owned.
​​​​​​​