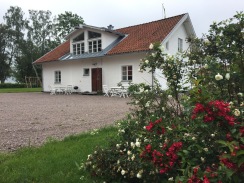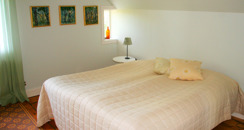 At the first floor is the room "Bridget of Sweden". A spacious double room inbeautiful light green, with private toilet and shower.

You can read more about Bridget of Sweden at the following link:
https://en.wikipedia.org/wiki/Bridget of Sweden

Saint Birgitta

Birgitta Birgersdotter was born in 1303 and married a judge, Ulf Gudmarsson from Ulvåsa. They had eight children together.
Birgitta visited Santiago de Compostela together with her husband. It was one of the most important goals for pilgrims during the middle ages. A short time after their visit, in 1344, Birgitta's husband died.

After becoming a widow, Birgitta rejected worldly things and saw herself as a mouthpiece for God. In the Revelations of St. Bridget, Birgitta got a commission from God, Christ, and Mary to spread the message to both religious and political leaders. Thankfully, her revelations were written down and remain available today.
Birgitta travelled to Rome in 1349 to meet the Pope. Her intention was to convince him to give her permission to found a new order. Her plan was not approved until 1370 and the monastery was not built until after her death.

The Swedish king donated the farm in Vadstena where the monastery was built. The order Birgitta founded is called The Holy Saviour's order (Ordo Sancti Salvatoris), which is generally referred to as the Birgitta Order.​​​​​​​​​​​​​​